Latest work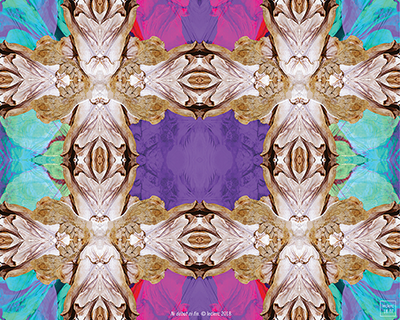 Temporal spasm: big-bang and multiplicity of forms that are repeated to infinity.
Work in progress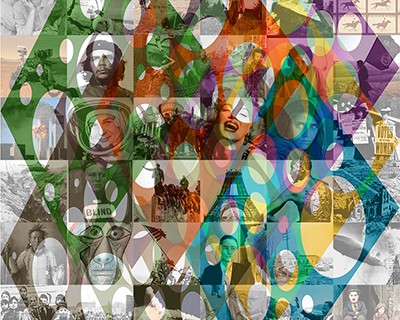 Participations in the International Exhibition of Digital Miniature Printmaking 16. Ottawa 2021
News
Opening is intended to be displayed as a mural. Some halftone textures were added to the artwork to create an element of surprise when you have a closer look.
Gradients provide an extra dimension of warmth to flat colours.
Digital art is great for cross-pollination between pieces, therefore creating artworks in constant state of changes. For instance, the genesis of this piece is a black and white version using halftone instead of colours.
I have been fascinated by the bourgeoisie portraits of the end of the 19th century. The technique used by these artists — here John Singer Sargant — is remarkable: a mix of classic composition and unique drawing skills, combined with a freestyle painting technique closed the modern abstract art.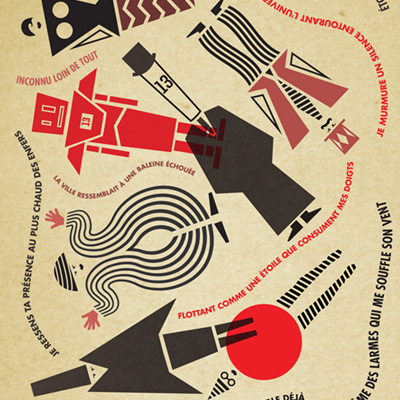 Dadaism used graphic arts as a preferred means of expression. Graphic artists such as Kurt Schwitters developed a visual language composed of movable types reproduced on mechanical printing presses. This means of reproduction gives Dadaist publications their handmade style .
Dadaism puts words in front. Random words are reassembled following the order of the draw. The typography of words breaks the graphic standards of the time by combining modern fonts with traditional characters, creating a chaotic composition. Dada also marked the theatre by its unusual lyrics and eccentric costumes.
Dada 1 and Dada 2 explore these aspects of Dadaism. The geometric designs are  inspired by Dada costumes. Their iconic treatments are in a contemporary style, although many Dada used Dingbat characters as the symbol of the hand.
The special effects of old paper and faded colours are a reminder of Dada works exhibited in museums. These publications were not designed to last long. They were revolutionary actions against the bourgeoisie and the establishment in reaction to the horrors of the Great War.
An interpretation of A Bar at the Folies-Bergère, a masterpiece by Edouard Manet the early 1880s.
Transposing paint brushes of lights into lines turned out to be a veritable challenge.
The woman at the bar is a real person, known as Suzon, who worked at the Folies-Bergère in the early 1880s.